Monthly Archives:
January 2021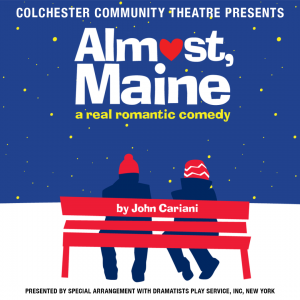 Colchester Community Theatre proudly presents ALMOST, MAINE by special arrangement with Dramatists Play Service, Inc., New York. "Welcome to Almost, Maine, a town that's so far north, it's almost not in the United States—it's almost in Canada. And it almost doesn't exist. Because its residents never got around to getting organized. So it's just…Almost. One cold, clear Friday night in the middle of winter, while the northern lights hover in the sky above, Almost's residents find themselves falling in and out of love in the strangest ways. Knees are bruised. Hearts are broken. Love is lost, found, and confounded. And life for the people of Almost, Maine will never be the same. ALMOST, MAINE: It's love. But not quite."
This prerecorded virtual performance will take place on Saturday, February 13 at 7:00 pm. In order to view the performance, all audience members must obtain a virtual ticket at https://www.showtix4u.com/event-details/45871
Colchester Community Theatre is incurring the cost of processing fees for all audience members so there is no charge to gain access to the show. However, CCT is asking our audience to consider making a donation when obtaining a virtual ticket. At least 50% of this donation revenue will be allocated to Colchester Food Bank and Colchester Fuel Bank to support those in need. Enjoy the show!
Contact info@colchestercommunitytheatre.com with any questions. Colchester Community Theatre is sponsored by Colchester Parks & Recreation.
Colchester Community Theatre thanks all our actors and patrons who have continued to support us. Please stay tuned to our website for updates on events. Stay safe and take care!