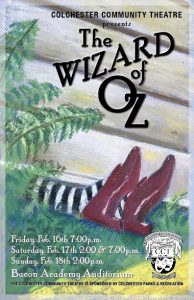 SOLD OUT – SUNDAY'S 2:00 PM PERFORMANCE IS SOLD OUT! THANK YOU PATRONS!
In celebration of its 20th year, the Colchester Community Theatre proudly presents The Wizard of Oz through special arrangement with Tams-Witmark Music Library. This beloved tale, in which a Kansas farm girl travels over the rainbow to discover the magical power of home, has been entertaining audiences for generations.
Performance dates are Friday February 16 at 7:00 pm, Saturday February 17 at 2:00 pm & 7:00 pm, and Sunday February 18 at 2:00 pm at Bacon Academy High School Auditorium, 611 Norwich Avenue in Colchester, CT. Ticket prices are $15.o0 for Adults and $12.00 for Seniors and Children, age 12 and under. Preferred seating tickets (a maximum of 50 each performance) are available for $25.00 each. Preferred seating ticketholders will be asked to arrive at least a half hour before performance times as entrance to obtain seats will be allowed before the general audience. Seating for the general audience will take place 20 – 30 minutes before the performance time.
TICKET PURCHASE OPTIONS:
Tickets will be available at the door on performance dates subject to availability. The Box Office will open ONE hour before each performance. Advance ticket purchase is recommended. All ticket sales are final – no refunds or exchanges.
CCT is sponsored by Colchester Parks and Recreation.
Colchester Community Theatre's Annual Membership is currently for the period 7/01/17 – 6/30/18. We are now accepting membership dues.
Annual Membership is now $15 for an individual or $30 for a family. Members are entitled to one complimentary ticket to our February production with individual membership and two complimentary tickets with family membership. Annual members, 18 or older are entitled to vote on each matter submitted to a vote at a meeting of members. Annual members can be eligible to be elected to the Board of Directors as well.
Being a member helps support our organization. It is the vision of the current Board of Directors to be able to offer more "perks" to our membership, but we need a lot of support from you! Please consider becoming a dues paying member. All dues and renewal applications should be mailed to Colchester Community Theatre, 127 Norwich Avenue, Colchester, CT 06415 – Attn: Laura Brown. Forms can be found on the "Membership Details" page.