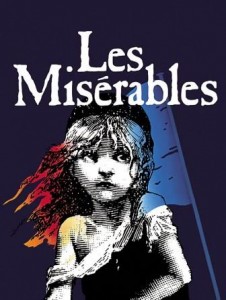 Colchester Community Theatre is very excited to present Les Misérables  thru special arrangement with MTI. Les Misérables is a sung-through musical based on the novel of the same name by French poet and playwright, Victor Hugo. "This international smash-hit may be the most popular musical in the world. Epic, grand and uplifting, Les Misérables packs an emotional wallop that has thrilled audiences all over the world. It is a powerful affirmation of the human spirit that has made this such a popular masterpiece."
Performance dates are Friday February 14 at 7:00 pm, Saturday February 15 at 2:00 pm & 7:00 pm, and Sunday February 16 at 2:00 pm at Bacon Academy High School Auditorium, 611 Norwich Avenue in Colchester, CT. Ticket prices are $12.00 for Adults and $10.00 for Seniors and Children, age 12 and under. Preferred seating tickets (a maximum of 50 each performance) are available for $20.00 each. Preferred seating ticketholders will be asked to arrive at least a half hour before performance times as entrance to obtain seats will be allowed before the general audience. Seating for the general audience will take place 20 – 30 minutes before the performance time.
Several ticket purchase options are available:
Online ticket sales (credit card only) are available now through ShowTix4U – see additional information and the link on our Buy Tickets Page.

In person ticket sales (cash and check only) will be available at Copies Plus…more between 9am-5pm, Mon-Fri, at 31 Halls Hill Road in Colchester beginning January 6.

Credit card sales by phone will be available through CCT's "virtual box office" by calling 860-287-7309. Please leave a name and phone number and calls will be returned within 24 hours.
Tickets will be available at the door on performance days subject to availability. Advance ticket purchase is recommended. All ticket sales are final.
Note: Tickets will not be available for purchase at Colchester Parks & Recreation in the Town Hall.
CCT is selling advertisement space in our program as well as sponsorship levels offering free tickets and preferred seating to offset the cost of the costume rentals, sets and props construction. For additional information, contact our Producer, Donna Brown at 860-537-3215.
CCT is collecting canned food items in the lobby at all performances to replenish the Colchester Food Bank. Thank you in advance for your generosity.
In case of inclement weather, please call 860-537-7297 for updates. CCT is sponsored by Colchester Parks & Recreation.