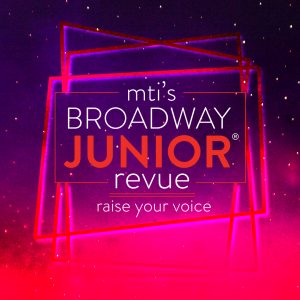 The Colchester Community Theatre Summer Children's Workshop proudly presents Broadway Junior Revue: Raise Your Voice on Saturday, July 23 at 2:00 p.m. in the Bacon Academy High School Auditorium. This show is presented through special arrangement with MTI Raise Your Voice is a brand-new revue featuring songs from across MTI's Broadway Junior® collection. From Broadway Junior musicals based on classic titles like Guys and Dolls and Oliver! to beloved Disney shows like The Little Mermaid and Mary Poppins, Raise Your Voice offers a fun introduction to musical revues for young performers. Come and see some of your favorite characters such as Ariel, Artful Dodger and Oliver, Mary Poppins with Bert and the chimney sweep chorus and many more!
Tickets for this production are $6.00 each (adults & children) and may be purchased at the door on the day of performance. All audience members are asked to wear a mask for the safety of the performers as well as all attendees. Any questions, please call Wallis Johnson 860-267-1023 or email Laura Brown at RTR1982@aol.com. CCT is sponsored by Colchester Recreation Department.
Colchester Community Theatre's Annual Membership is currently for the period 7/01/22- 6/30/23. We are now accepting membership dues.
Annual Membership is $15 for an individual or $30 for a family. Annual members, 18 or older are entitled to vote on each matter submitted to a vote at a meeting of members. Annual members can be eligible to be elected to the Board of Directors as well.
Being a member helps support our organization. It is the vision of the current Board of Directors to be able to offer more "perks" to our membership, but we need a lot of support from you! Please consider becoming a dues paying member. All dues and renewal applications should be mailed to Colchester Community Theatre, 127 Norwich Avenue, Colchester, CT 06415 – Attn: Laura Brown. Forms can be found on the "Membership Details" page.